Easily manage your location data and drive content channels such as digital signage, web, mobile and print with Directory Management Studio from Art of Context
Digital Wayfinding undoubtedly improves a customer's experience, allowing them to navigate with ease and reduce stress. To deliver these experiences, administrators need a management system that integrates with their existing tools to easily manage, extract and supply location based data. To meet this need Art of Context (AOC) developed Directory Management Studio (DMS), a purpose-built system for directory asset management.
DMS extends the power of content management systems and digital signage tools to easily build interactive maps that drive consumers to concessions and increase revenues. An ideal system for maintaining directories of any type in venues such as hospitals, airports, malls, resorts, museums and casinos. On the backend, DMS provides a unified data stream to reduce the effort and cost of entering information in multiple systems, extending information across diverse channels such as digital signage, website, mobile and print directories.
DMS is currently used by some of North America's busiest airports
BOS – BWI – DTW – JAX – PIT – YYC
DMS Key Features
Extend Location Data – Purpose built to manage the location and concession specific information required to maintain all of your directories on any channel.
Manage Your Assets – Drag and drop locations to a map instead of cumbersome plotting or complex GIS.
Deploy With Ease – Cloud/SaaS or hosted on premises within your firewall and manage updates from the web, mobile or a tablet.
Deliver Accuracy – All channels receive the same changes in real time.
DMS Administration
Drag and Drop Simplicity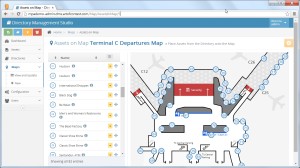 DMS is centrally managed and has a user friendly administrative interface.
The system uses HTML5 standard drag and drop for placing assets on a map. The administrator simply drags an asset into place to create a new instance on the map.
This new instance will inherit all the properties of the parent asset but offers the admin the flexibility to easily override configured properties for that specific instance.

Powerful Configuration
DMS is powerful and easy to configure. Administrators can easily customize attributes to meet their unique needs.
Multi-Channel Publishing
Envision an admin who needs to publish updates to a concession description in multiple locations. With Directory Management Studio, the admin only needs to make the changes one time in one place. Once published, the dynamic media will update instantly to any channel – digital signage, web or mobile.
Don't Forget Print Assets
Print asset templates can also be updated by the sign shop without additional data entry, this ensures accurate and timely information across all channels.
Multiple Directories
Organizations with multiple directories and/or large campuses will find Directory Management Studio to be particularly helpful. With DMS, an administrator can manage multiple directories and share assets among those directories in one place.
Responsive Design
Administrators can access and update data from any desktop, tablet or mobile device.

DMS Driven Channels
Digital Signage Integration (FWi)
DMS integrates with the leading Digital Signage solution Four Winds Interactive (FWi). Extending FWi's robust ability to deliver interactive place-based information, DMS provides JSON and XML data feeds to streamline asset information that creates commanding visual displays powered by FWi.
Boston Logan International airport (BOS) launched their DMS driven, web-based interactive directory in July 2014. This new HTML5/SVG based system can be viewed via the Massport website.
Learn More about DMS
To learn more about how Directory Management Studio can help you improve passenger experience, please contact Lee Ryan at lryan@artofcontext.com or call 617-606-9797.