February 12, 2014 New digital signage at Boston Logan International Airport took home two Bronze Awards at last month's Digital Signage Expo. The signs took one Bronze at the Apex Awards, which honor innovation in the deployment of technology as it is related to digital signage, interactive technology and digital out-of-home industries The second Bronze was awarded in the transportation category of the annual Digital Signage Expo Content Awards. The Content Awards honor innovating and compelling content created for digital signage.
The award winning signs were designed and developed by Art of Context on behalf of our client The Massachusetts Port Authority. The signs are part of Boston Logan's Digital Passenger Information Project (DPIP). DPIP represents the Airports commitment to improve communication with passengers via the web, mobile and digital signage
Opportunities for Innovation In Digital Signage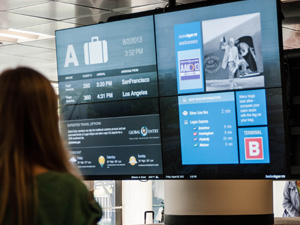 These award winning digital signs feature:
Vetted and unique content including baggage carousel information and actionable, real-time ground transportation information and "infotainment" content, including weather, promotions, welcome messages for groups, and historical airport photos and regional event information.
A web services data layer developed by AOC to provide the Baggage claim displays with real-time data.
Use of one template for all baggage claims, but the appropriate flight and bus information is displayed based on location.
A data-intensive design that incorporates four screens (and their bezels) to yet gives the appearance of a single canvas.
Response to the New Digital Signs
The passenger response to the baggage claim displays was overwhelmingly positive. Passengers especially appreciated the real-time bus information to help guide their transportation decisions.
Boston Logan has also heard glowing feedback from its airline tenants and intends to expand the deployment of this dynamic signage from the current partial implementation to all four terminals in the airport.
Art of Context would like to extend our gratitude to the judges of both the Apex awards and the Content Awards. We'd also like to thank our client Boston Logan International Airport for having the vision to launch this project. DPIP is an ongoing initiative and we are excited about the work that lies ahead.