Late last year Art of Context was approached by Matt Blumberg, a Program Manger at Google on the Chrome Product Team. Google was slated to have a large presence at this year's Digital Signage Expo in Las Vegas. Matt and his team were looking for powerful examples of digital signage related software that would run as Chrome Apps in Chrome OS on an Intel-based Chromebox. Matt had seen Art of Context's work at Boston Logan Airport and wanted to know if we'd be interested in displaying the interactive directory we created in the Google booth at DSE.
Displaying Boston Logan's Interactive Directory
I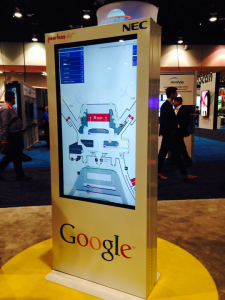 t took us less than a nanosecond to jump on the opportunity to display Boston Logan's Interactive directory at the 2015 Digital Signage Expo. Our Solutions Architect Tom Dunn created a stand alone version of the Boston Logan Interactive Maps and shipped it to Google in advance of the show. He says. "Deployment on Chrome OS devices means running in a very secure environment that always has the latest security updates.  You can remotely manage all of your devices.  Devices can be booted to run only your application."
 At Digital Signage Expo 2015
Our team was thrilled to arrive at DSE and find the interactive directory prominently displayed. Colleen Hamilton one of AOC's principals said "Art of Context is committed to providing our clients with best solutions to meet their needs. We continue to create state-of-the-art solutions across a variety of development platforms. It was fun to stand back and watch show attendees interact with the sign. It's always a thrill to see your work out in the wild."
Thanks to Matt Blumberg and the Chrome Product Team for the opportunity!