Detroit Metro enhances passenger experience with digital signage
Maintainability was a key word for Detroit Metro Wayne Country Airport (DTW). They needed a digital signage solution that would be easy to maintain, aesthetically pleasing, easy to use, and cost effective. Art of Context, as part of an award winning team, brought interactive digital signage to Detroit. To meet DTW's needs, we installed Directory Management Studio (DMS) and integrated it with a Four Winds Interactive digital signage solution.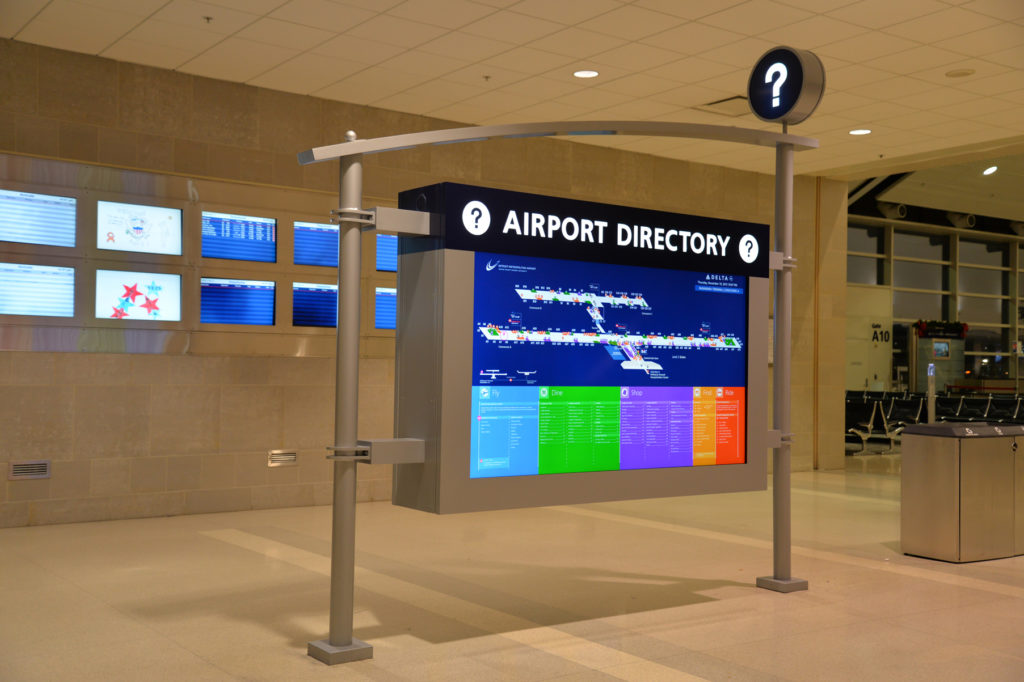 About DTW
Detroit Metropolitan Wayne County Airport services the Detroit Metro area along with parts of Northern Ohio, and Southeastern Ontario, Canada. The airport has 2 terminals, MacNamara (Mac) and North Terminal. Mac is an operating hub for Delta Airlines and other Sky Team partners. It has 103 gates and is home to a diverse array of shops and restaurants. The main concourse features a sky tram to expedite travel from one end of the mile-long concourse to the other.
Problem
MacNamara terminal was home to 27 large, print directories, a mixture of single sided and double sided signs. Although frequently used, and crucial for passenger decision making with regards to travel between gates and utilization of concessions, the signs were often out of date and weren't oriented for the user.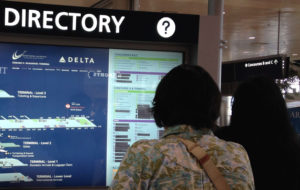 Airports are constantly changing ecosystems and maintaining these directories was time consuming, and costly. In the short term it required the application of a decal to each side of EVERY sign and eventually the entire panel had to be replaced.
There was a great sense of urgency to update the signs as DTW was refreshing most of the restaurants, shops and services. The airport wanted to ensure signage now and in the future was current and easy to update.
DTW is always searching for ways to improve a passenger's experience regardless of layover duration. From DTW project documentation: "Providing the right information, at the right location, at the right time via the right vehicle is critical to improving a traveler's experience at DTW.  This includes equipping the traveler with information specific to their situation and effectively guiding their navigation through the airport." Project goals as stated by DTW.
Digital Signage Solution
Art of Context, as part of a team of industry leading companies such as Arora Engineers, Gresham Smith & Partners, Illium Associates, Infax and SDG, helped to bring the next generation of digital signage to Detroit Metro Airport.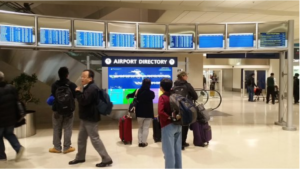 The project resulted in the development of 42, 86-inch, static screens and 2, 98-inch, screens that utilize boarding pass scanners to personalize the user experience. Later, 4, 55-inch interactive directories were also brought online to allow passengers to preview menus and merchandise types in multiple languages as well as determine walk times to restaurants and shops. All of the screens are oriented to the users' perspective to make navigation a snap.
AOC also implemented Directory Management Studio, our award winning, purpose-built, directory asset management system to centralize the administration of map assets such as restaurants and amenities and make updates as easy as "drag and drop".
Results
The results were extremely positive. Travelers appreciated the clean look and feel of the new maps and the orientation of the maps to their location. The advanced technology even caught the eye of the local media (see below). As the refresh unfolded, and more and more concessions came online, DTW staffers found that updating the maps was quick painless.
Summary
By using the award winning, cutting edge technology of Directory Management Studio (DMS) and Four Winds Interactive, Art of Context and our team of experts brought Detroit digital a signage solution that was easy to use and maintain for the airport as well as, providing a cost effective, yet easy to use and aesthetically pleasing experience for passengers.