JAX updates passenger information screens including, FIDS/BIDS/GIDS, common use ticket counters, advertising and wayfinding.
"We are in a continuous improvement process to better serve our customers." So says Bryan Long, Terminal Operations Manager for Jacksonville International Airport (JAX). As part of that improvement process, Art of Context worked with the JAX team to implement a digital signage solution to unify the displays for baggage, flight, and gate information as well as screens used for common use ticket counters, advertising and wayfinding.
Jacksonville International Airport had more than 5.5 million passengers travel through the modern terminal in 2015. The airport provides direct service to 35 cities via 8 carriers with an average of 180 daily flights.
Customer service isn't just talk, in 2015, JAX was tied for the #2 rating in customer service by the world-renowned Airport Council International's (ACI) Airport Service Quality (ASQ) Awards. "The ASQ survey is an important benchmark. Sure it would be great to be # 1, but our goal is to improve our scores year over year. For us, it's always a race to improvement," JAX's Long said.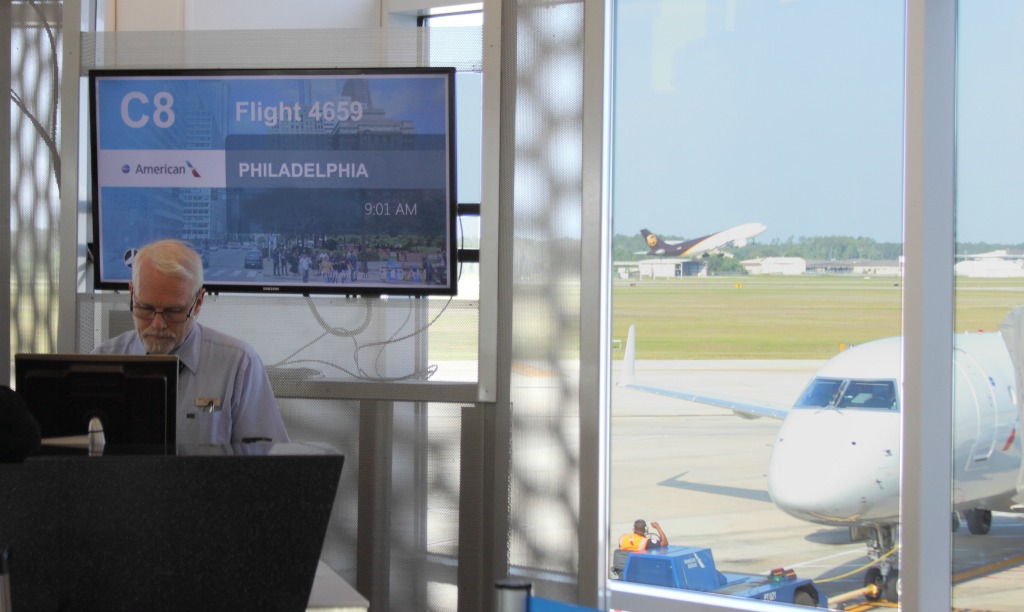 Starting in late 2015 JAX set out to improve passenger communication by deploying digital signage software from Four Winds Interactive on existing screens. The goal was to improve communication of flight data (flight times, gate assignments and baggage information) as well as improving outreach during emergency management situations. Art of Context was thrilled to accept the challenge. "It's rare that you have the opportunity to work with an airport on all aspects of their digital signage at one time," Colleen Hamilton, one of the principals of Art of Context, said.
According to Steven Schultz, Director of Information Technology for JAX, there were two factors that aligned to make the project possible. Airport management had a goal to take over all of the screens in the event of an emergency and IT had equipment that was nearing the end of its life cycle. Both goals were met by undertaking the projects together. It also made for a more efficient approval and execution process. "Steven and the JAX Team had a clear vision for the project and the power to execute that vision. It made for prompt approvals and efficient execution," Hamilton said.
Requirements for passenger information display screens improvement project 
The product JAX had been using was not easy to use and in the case of the advertising management system, it was more of a hindrance than a help. It was crucial that going forward, JAX staff be able to maintain the system and implement new designs. JAX had already pre-selected Four Winds Interactive as their delivery platform for digital signage, but there were numerous other project requirements.
Unified, easy-to-use solution.
Screens can be controlled from one remote location.
Content must be dynamically updated via existing operations databases.
All screens must be able to display emergency messaging and that messaging must be able to be triggered from one location.
All screens to have an aesthetically pleasing user experience using relevant graphics.
Baggage displays can be triggered to display relevant flight arrival information. When not in use, they can also display alternate content such as advertising, screen savers and relevant scrolling text.
A well-constructed environment and training so JAX staff would be able to support future updates to the screens.
Solution for improving passenger display screens
The award winning team of aviation experts at Art of Context have in-depth experience integrating data feeds and creating aesthetically pleasing user interfaces that improve passenger experience and overall passenger satisfaction.
Our team:
Gathered requirements consulting with business users including terminal management and the advertising manager.
Created a screen design that was easy to read, while supporting Jacksonville Aviation Authority branding.
Designed all FIDS/BIDS/GIDS at same time.
Created a roll out schedule that relieved the biggest pain points while minimizing exposure. The 83 screen system was rolled out over several months in the following order: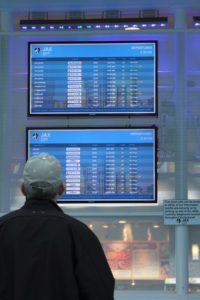 Advertising – highest need largest pain point
BIDS – lowest risk and best way to test the system
FIDS – replacement to existing screens
GIDS – replacement of airline screens
Ticket counters – tied into Common Use system to accommodate airline expansion.
EMS – separate launch during overnight hours to ensure system effectiveness with minimal passenger interruption.
Interactive directory screens – to assist travelers in locating concessions and amenities.
The project brought beautiful branding throughout the terminal as well as an easy to use system and comprehensive EMS broadcasts. From bid to completion, the entire project was completed in less than ten months. "It is such a treat to work as part of team that has a clear vision and the desire, passion and influence to see the project through," AOC's Hamilton said.
EMS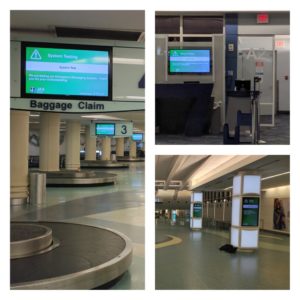 When it comes to EMS, Bryan Long, JAX Terminal Manager said, "The transfer of information is important day to day, but in an emergency situation, it becomes critical to effectively communicate to all audiences." Art of Context built a custom, web-based solution that integrated emergency messaging into JAX's existing Active Directory. The signs access EMS via a subscription, but that service is also available, at JAX's discretion to other systems.
The new system met a long time goal of all screens conveying EMS info easily and efficiently from Airport Operations. Unified information display across all screens allows for quick and easy communication as well as clarity of information. A screen can display location specific evacuation information based on where it is in the airport. Centralized control allows JAX staff to convey the severity of the message; for example, a tornado watch vs. tornado warning vs. take cover NOW!
The new system also improves compliance with the American with Disabilities Act providing visual information for the deaf and hard of hearing.
The consistency across all signs contributes to passengers' improved acquisition of information as well as the overall aesthetic of the airport, providing a less cluttered and more welcoming experience for travelers.
Results for the passenger information screens improvement project
Steven Schultz is thrilled with the results of the project. "AOC did a fantastic job really considering the business needs and wants rather than just pushing a solution. They put together a project that is really supportive of JAX branding." The project was on-time and on-budget. With the new system JAX IT has seen a tremendous increase in system stability at both the player level and with the underlying architecture. Schultz estimated JAX had to call the support vendor for the previous system at least three times a week for public facing issues. The few issues that have arisen, JAX IT staff has been able to resolve themselves. Schultz is delighted to no longer be dependent on an outside entity. "AOC also set JAX up for success, with their training, our staff was able to update baggage claim background images to welcome attendees and players to a recent professional golf event." That type personalization is important to Jacksonville customer focused mentality. Arriving passengers are welcomed with photos and information about Jacksonville and departing passengers see photos of their destination (consistent with time of day) and current weather conditions.
Summary
Working together, Art of Context and Jacksonville International Airport combined Four Winds Interactive digital signage software with AOC custom code including, a flight data wrapper and associated configuration files, and an emergency messaging system, to create a unified, easy to use, digital signage solution. The new signs improve the travel experience for JAX travelers and staff for a long time to come.
Photos courtesy of Jacksonville International Airport. Steven Schultz, photographer