Interactive digital sign added to the Framingham Logan Express terminal as part of a multi-million dollar renovation and construction project.
Logan Express provides direct bus service from five terminals in and around Boston, to Logan Airport. In a $33 million dollar renovation project, The Framingham, Logan Express terminal was recently renovated from the ground up. The project included a parking garage that doubled the number of available spaces and created special parking spots for hybrid/alternate fuel vehicles as well as charging stations for electric cars as well as a sorely needed new state-of-the-art terminal and waiting area featuring a new interactive digital sign.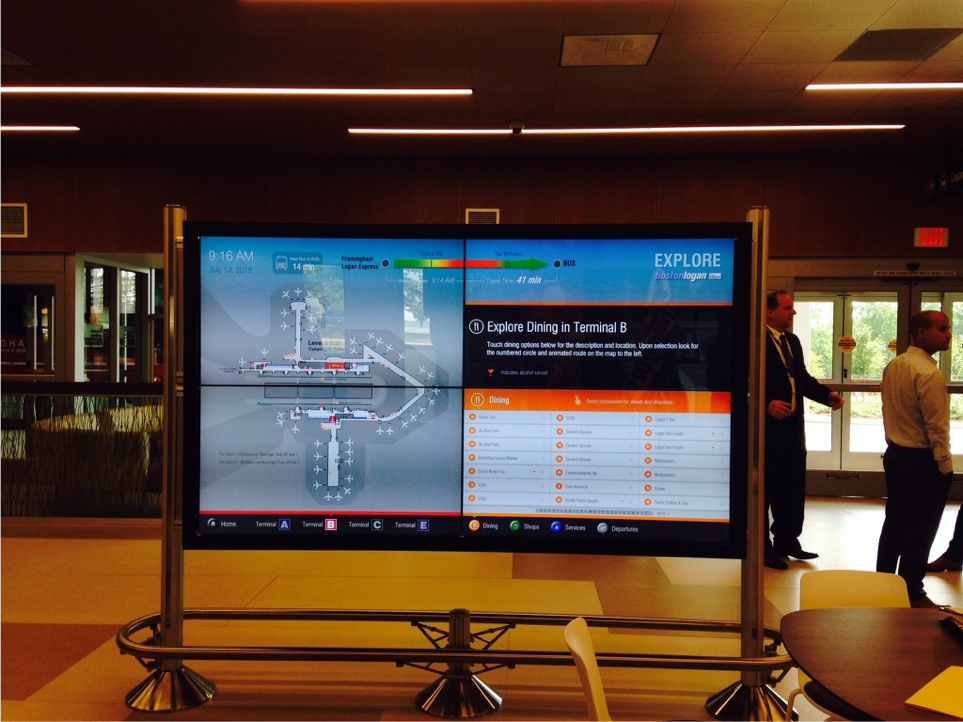 The Framingham terminal features the first satellite deployment of Boston Logan's Digital Passenger Information project (DPIP), a digital signage and wayfinding initiative. A video wall was installed that featured:
a real-time infographic on bus arrival and traffic to the airport
up-to-date information designed to familiarize passengers with the amenities available upon arrival.
current flight/gate data
Like all the other DPIP signs, the Logan Express installation utilizes Art of Context's Directory Management Studio (DMS) to provide details about concessions such as location and hours of operation, as well as current flight and gate information. DMS is a purpose-built system for directory asset management that extends the power of content management systems and digital signage software. It is a cutting edge tool that gives administrators the ability to easily manage, extract and supply location based data to create easy to maintain, interactive maps that have been proven to drive consumers to concessions and increase revenues.
Usage of similar installations of interactive maps in the terminals at Boston Logan has been well received and steadily increasing. However, the captive audience at the Framingham Logan Express terminal has driven usage of this particular interactive map through the roof. The sign provides waiting travelers with entertainment and the ability to plan their route through the terminal. The sign also gives them the answers to all important questions like, how far is food from my gate? Or, will I have time to grab a magazine before my flight? Travelers report feeling better informed and more relaxed upon their arrival at the terminals.
This installation was planned as part of the new construction project and Massport is pleased with the response to the interactive digital sign at the Framingham Logan express terminal. Potential for additional deployments of satellite digital signage and wayfinding is being considered as plans are made for future redevelopment of the remaining Logan Express terminals.
For more information about Directory Management Studio and how it can improve your customers' experience and your administrators' efficiency please visit the DMS web page. For a demonstration, please contact Art of Context at info@artofcontext.com.