Boston Logan Improves Wayfinding for Parking and Car Rental.
When focusing on improving passenger experience, Boston Logan Airport (BOS) considers the entire journey. From front door to take off, the BOS Digital Passenger Information Project team works to insure a positive passenger experience.
Central Parking with its covered walkways and moving sidewalks is a very popular parking option with travelers. After a recent expansion, it became even more important to help travelers find their way.
In 2016, Art of Context and BOS worked to create purpose specific, digital signage to improve passenger experience by simplifying wayfinding from car to terminal and parking payment kiosk to car.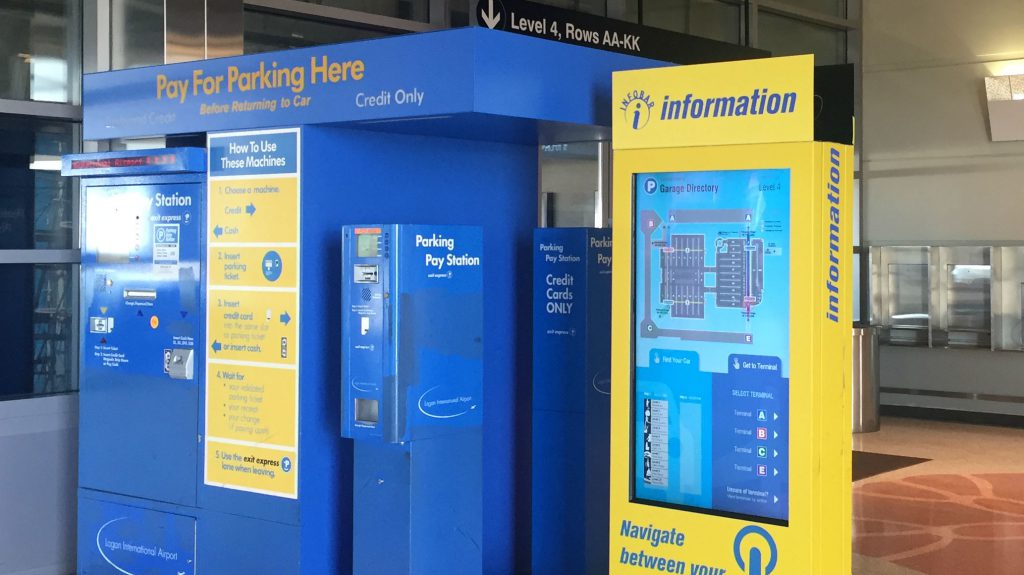 The project improved wayfinding via garage directory kiosks. Arriving passengers have access to directions from parking garage lobby to the terminals. After paying for their parking returning passengers utilize the kiosk for directions from the garage lobby to their car.
How does the wayfinding work?
Due to heightened security, the airport keeps an inventory of cars parked overnight. When passengers return and pay their parking fees, the location of their car is printed on the back of their exit ticket. Travelers simply enter their floor and row number on the directory kiosk and the sign provides personalized wayfinding from the lobby to their car including being routed to the most appropriate elevator
Car Rental Kiosks
On the baggage claim level of each of the terminals, there is a sleek, kiosk designed to help travelers who need a rental car. Gone are the endless phone banks, it their place is an eye catching, branded kiosk designed to provide information in a fast, user friendly way. There is even a phone for those travelers who need to speak with a person. The content also includes real time arrival information for the rental car shuttle bus that brings passengers to the integrated rental car facility.
Once the wayfinding challenges were identified, an off-the-shelf product from Peerless Mounts empowered the team to address the issue quickly and efficiently. Art of Context has utilized other Peerless Mounts and Peerless was the first to offer a fully integrated product. It was a bonus that the included screen was an NEC monitor, the standard at BOS.
After our team developed the content, installation was a snap. All we needed to do was supply data and power and the kiosk was on the job addressing travelers' needs.
Passenger response to both signs has been very positive. How can Art of Context help you improve your airport's passenger experience?