The San Diego County Regional Airport Authority selected Art of Context to create a wayfinding solution that would be accessible, effective, easy to manage, and budget friendly for the San Diego International Airport. SAN is the busiest single runway airport in the U.S. hosting more than 22 million travelers a year.
SANs wayfinding wasn't meeting the needs of passengers or staff. Maps were static as part of timed rotating images. Passengers frequently mistook them for interactive and were frustrated when they had to wait for the map to rotate back around. Staff had a hard time providing directions for the complex terminals as the maps weren't oriented to users. Travelers with disabilities and non-English speakers also faced challenges when accessing the maps.
Art of Context conducted an in depth analysis of SANs existing infrastructure and interviewed stakeholders to fully understand their needs. We determined that the screens and overlays could be reused, and for just $5,000, we replaced all 32 the players with low cost, reliable, Chromeboxes. Utilizing AOCs purpose built Directory Management Studio, we improved wayfinding, and provided greater accessibility for travelers with disabilities and non-English speakers.
Wayfinding and the EZ Access keypad
Art of Context created the first of its kind wayfinder to be integrated with the EZ Access keypad. EZ Access ® provides cross-disability access by combining a tactile keypad along with simple interactive techniques in ways that work together robustly and flexibly to accommodate users. This allows more people to use the self-service kiosk according to their own ability, preference or circumstance. The Directory Management Studio platform also enhances accessibility to non-English speakers by offering directory information in multiple languages of the airports choosing. Content is automatically translated by the system, but it allows administrators to override any translations if needed. The system is easily managed by non-technical airport administrators via a simple web interface to ensure accurate and fresh content. The system also automatically generates a universal data feed to enable third parties to access this accurate airport-managed data.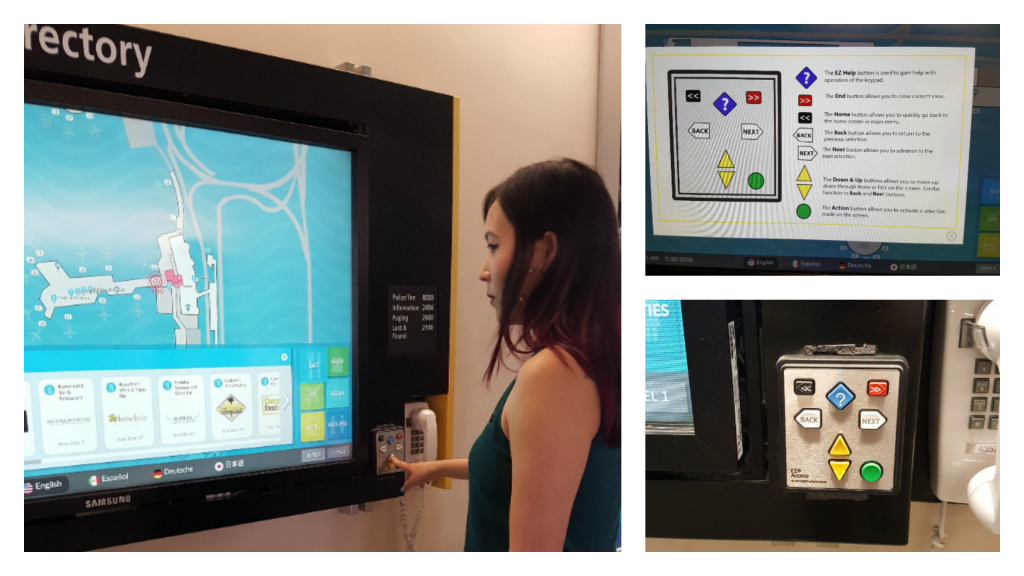 Cloud Based Innovation
While the use of a cloud-based solution is a relatively new innovation in the airport space it provides many advantages. A cloud-based solution allows for remote updates, remote monitoring and reduces the maintenance burden on SAN's IT staff.
Cloud-based operations also expedited and simplified installation of the new players. From our pre-production analysis, we knew that there was enough physical space and appropriate cables so, AOC pre-configured the Chromeboxes and shipped them to SAN IT for pre-installation this preparation made for virtual  "hot-swap" situation on installation day.
Effective Wayfinding: putting the user first
A key feature of our wayfinding solution was orienting the maps to the users' location. To entice travelers, the maps are interwoven with a "sizzle reel" that is fully configurable by the SAN management team and if desired can be localized to a map's specific location. If SAN so decided, the sizzle reel on players near their food court could feature only concessions in that immediate area. If left unattended, the attractor alternates with the map in 10-15 second intervals. When the attractor restarts, it picks up where it left off rather than starting from the beginning.


Both travelers and staff alike have embraced the updated wayfinding system. As technicians were wrapping up an installation, a gentleman hovered near by. As soon as the team moved away from the kiosk, he swooped in, changed the language to German and set about locating a suitable dining location for his family.