Web interactive directory puts Boston Logan International Airport in the palm of your hand.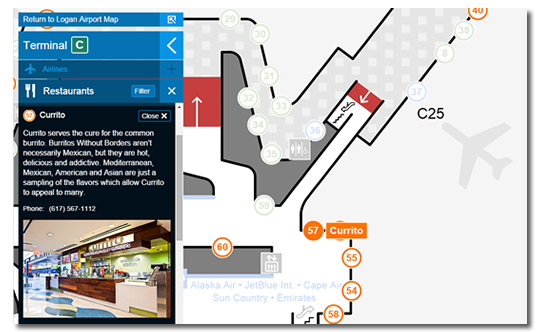 Art of Context worked with our design colleagues at Fresh Tilled Soil to build an outstanding and cutting edge web interactive directory for Boston Logan International Airport as part of their Digital Passenger Information Project (DPIP). The web interactive directory works to provide information to passengers reduce the stress of navigating the airport and to encourage patronage of concessions and promote the use of public transportation.
Cutting Edge Technology
Art of Context built this modern interface with Scalable Vector Graphics (SVG) on a HTML5 web architecture. The system is driven by our Directory Management Studio (DMS) which gives our clients unprecedented, real-time control of all their directory assets and channels, whether it be web, mobile, print, digital signage or interactive kiosk. Directory Management Studio allows a directory to be updated with just the click of a mouse.
Travelers visiting Boston Logan Airport experience the web interactive directory on digital signs in several terminals. Further implementation is scheduled for the near future.  They can also bring it up on their desktop, mobile phone or tablet via the Boston Logan Website. Since the implementation of the web interactive directory passengers have praised it's ease of use and concessionaires have seen an uptick in business. It's even won an award for best content in transportation at DSE 2015.
Google Spotlight's BOS's Web Interactive Directory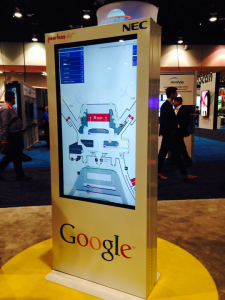 The Boston Logan Web Interactive Directory was featured in the Google Booth at the 2015 Digital Signage Expo. The Google Chrome Team was looking for powerful examples of digital signage related software that would run as Chrome Apps in Chrome OS on an Intel-based Chromebox. Team leader Matt Blumberg had see AOC's work at BOS and approached us about sharing it at DSE 2015.  Art of Context build at stand alone version of the BOS web Interactive Directory to display on the show floor.
Learn more about DMS.